Small Space? Limitless Possibilities
You've already organized your refrigerator and freezer by food type, you've got pots and pans neatly stacked and cleaning products succinctly arranged under your sink, but the group of kitchen necessities that always seem the trickiest to keep organized is your spices and cooking oils.
You may have them crammed in the back of a cabinet or perhaps they are sprawled out, taking up valuable counter space, which is fine, but likely a little too cluttered for your liking. Fortunately, there's a variety of methods and organizational tools available to keep your small space in tip-top shape.

Organization is the Spice of Life
Smart cooking starts with a smart kitchen. Even professional chefs suggest keeping your everyday ingredients within reach and making sure other items are organized and easy to find. This is especially helpful if you find yourself experimenting a little more in the kitchen!
That's why we can all benefit from smart solutions for storing those herbs and spices. It's possible to create "social media worthy" shelves, even if your kitchen is the size of a closet, with the right organization hacks and storage solutions.
Turntables for Easy Access
Opting to set your spices up on a turntable not only makes them much more easily accessible, but equally accessible. You don't have to worry about awkward shuffling and sifting for what you need every time you fire up the stove for a family meal.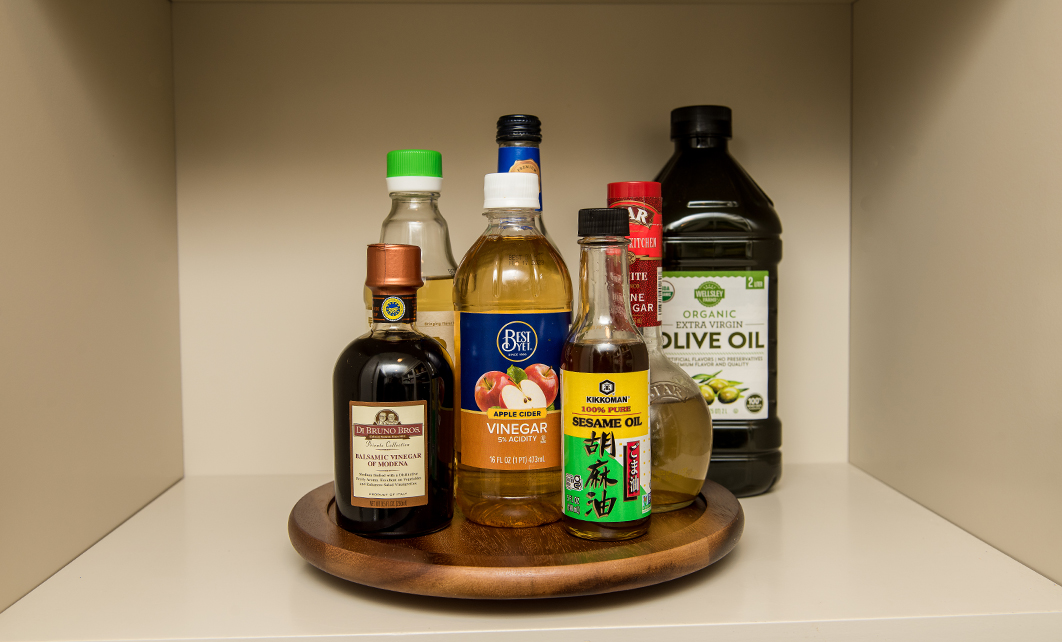 Since they rotate 360 degrees, the contents can be seen and reached easily. That means no more rummaging through cabinets for your preferred sauce in the back corner, or asking your fellow diner to pass the salt. Beyond the practicalities of easy access, they look fantastic and can pair well with any kitchen design.
Not only are turntables useful for saving space in the spice cabinet, but they can help in the pantry as well. Long gone are the days of losing unopened spices to the depths of your dark cabinets!
Pro tip: To ensure everything stays visible, place taller items, such as bottles of oil and vinegar, in the center of the turntable and shorter items, like spice jars, around the perimeter.
Saving Shelf Space with a Spice Rack
Figuring out where to keep your spices in a small kitchen is a tough decision, that will depend on several factors, including how often you use them, how much space you want to save, and whether you would like the spices to be displayed or hidden away.
Want flexibility? Choose a spice storage option that works equally well in a cabinet or on the counter, such as the Bamboo Expandable Step Shelf or the Three Tier Tilt Down Spice Drawer.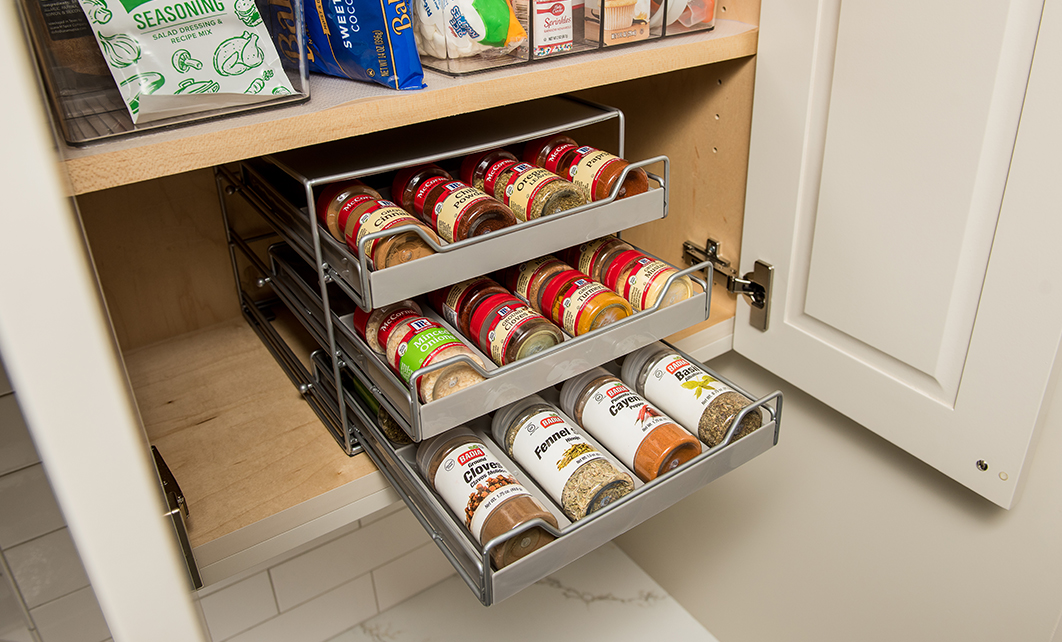 This cleverly designed unit is ideal to place on shelves and stores up to 12-full sized spice jars, making it a great option for households that use a lot of different spices. The compact rack offers to pull out drawers for easy and quick access, three adjustable dividers to allow you to store all your half and full bottle spices together in place, and works for round and square shapes.
Take Advantage of Vertical Space
Don't let the area at the top of your cabinets become a catch-all for unused appliances and dusty baskets. That space is just begging for some organization and a little design love. For example, if you collect platters, this is an ideal spot to neatly show off your treasure trove on individual stands. Or try a large set of containers in a row as a pretty display. Once this spot is shipshape, your kitchen space will seem taller and more open
Treat Yourself!
Make sure to treat yourself after a long day of organizing, it will encourage you in your tasks and make the day go faster. The tips above will not make magically make your space larger, but hopefully they will give you some ideas, and make the process a little easier to manage. And remember, you do not have to do it all in one day!
---
---