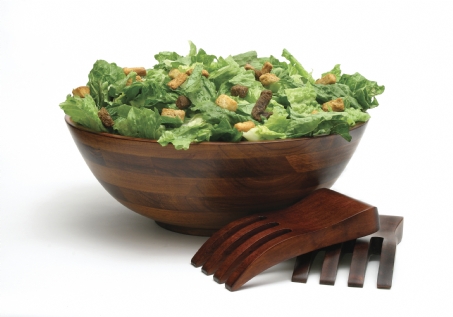 Cherry Finished Footed Bowl with Salad Hands, 3-Piece Set
Item# 274-3

Overview
These Cherry Finished Footed Bowls are made from natural wooden material. A rich, dark cherry finish adds modern elegance to this gorgeously crafted rice bowl made of natural Asian beechwood. These bowls are durable for reliable performance and a cherry finish to complement most any decor that will never go out of style. The Cherry Finished Footed Bowls are perfect for salad bowls, pasta bowls, appetizer plates, and snack bowls. Comes with two Salad Hands to serve your favorite salad with more control. Each Salad Hand fits nicely into your hands so that you can serve your dishes with ease.
Generously sized, beautifully shaped bowl is perfect for salads, fruits, or even as a centerpiece bowl.
Contemporary salad hands are ideal for serving and tossing.
Stained a food-safe, deep rich cherry color, which complements any décor.
What's Included
1 large footed bowl, cherry finish (Item# 274)
1 pair of salad hands, cherry finish (Item# 202)
Dimensions & Specifications
| | |
| --- | --- |
| Salad Bowl: | 13 ¾" x 5" |
| Salad Hands: | 3 ¾" x 7 x 1 ¼" |
| UPC: | 026914-274313 |
| Carton Pack: | 4 |
| Carton Weight: | 18.14 lbs |
Care
Hand wash with a mild soap and cool water. Do not soak. Do not put in the dishwasher, microwave or refrigerator. Extreme changes in temperature will cause the material to crack over time. Dry thoroughly. Occasional use of mineral oil on the inside will help maintain its appearance.