Valentine's Day ~ A Full Day of Celebration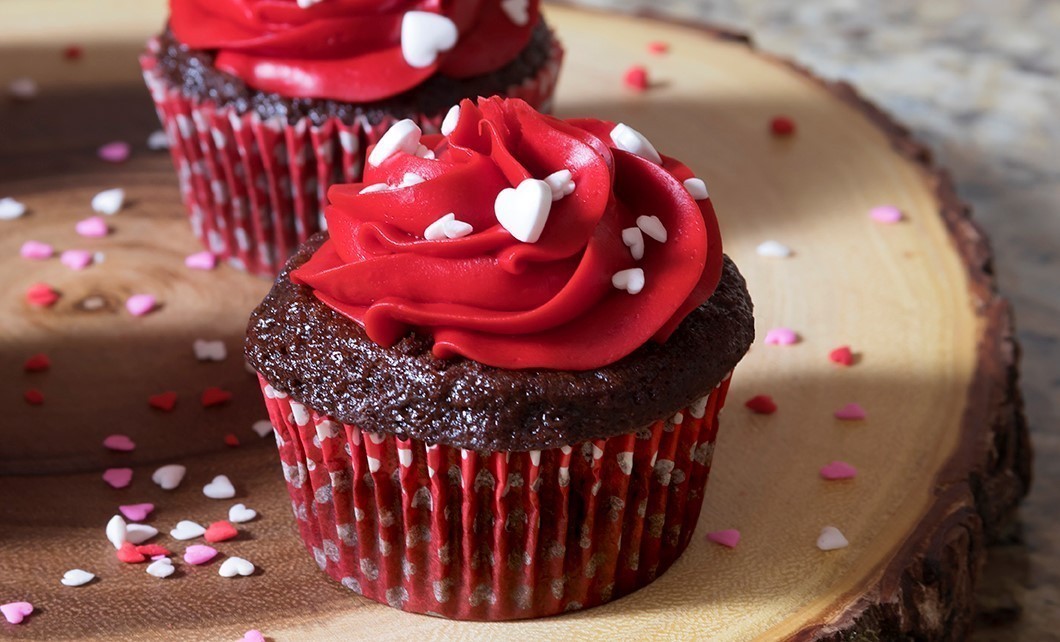 Did you know chocolate purchases for Valentine's Day are expected to top $18.2 billion this year, according to the National Retail Federation? That's an average of $136.57 per person! Instead of heading out to buy the classic chocolates, flowers and cards, surprise your loved one with a FULL DAY CELEBRATION from morning to evening!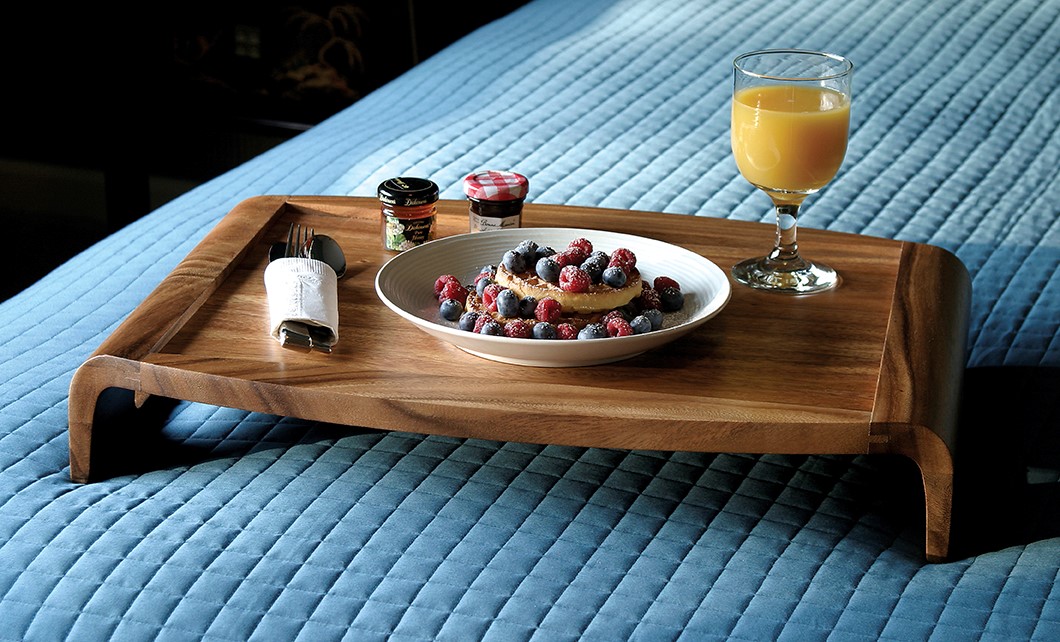 Breakfast in bed is one of the best surprises you can whip up for the person you love!
First, choose something that is not messy to make, such as eggs and bread, cinnamon rolls, toast, pancakes or waffles. Avoid cereal or anything served in a bowl with a liquid, since it can spill easily, or anything that might create a mess of crumbs. Here are some Breakfast Ideas and Recipes that should be a good source of inspiration!
Second, set the food on a large, easy-to-carry tray like this beautiful Acacia Reversible Tray so you do not have to make multiple trips while delivering the food to the bedroom.
Third, make sure to cover the food until your loved one wakes up so it stays warm. Lastly, add some nice decorative touches like putting a single flower on the tray, or sprinkling some rose petals across the tray. Don't forget to make a card and add a heartfelt note!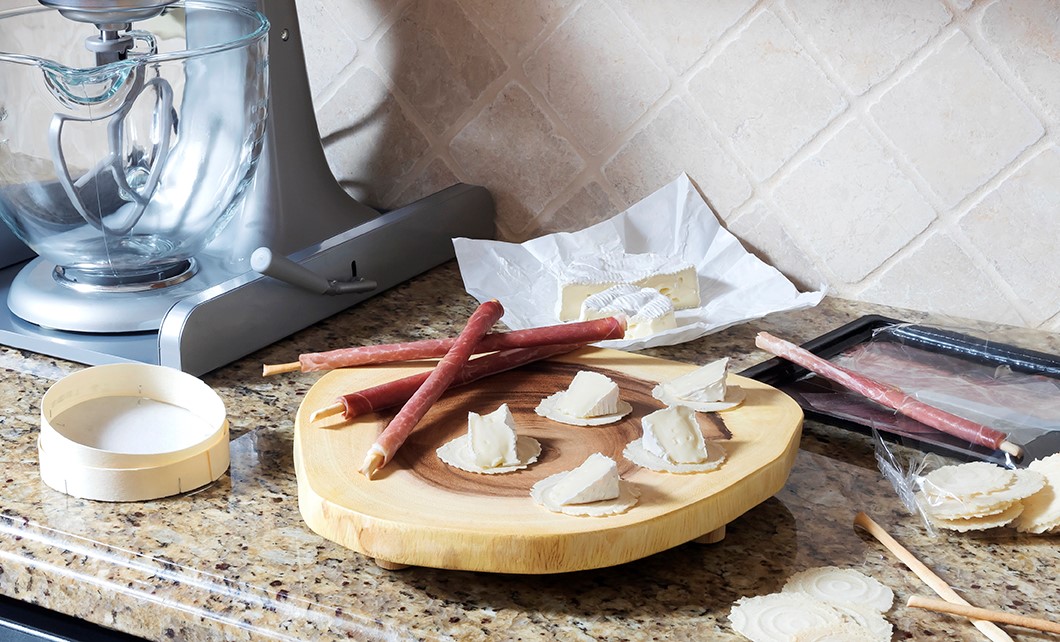 Choosing Your Dinner Menu
Continue the celebration by treating your loved one to a gourmet dinner at home! For starters, there are plenty of delicious and super easy-to-make appetizers, like rolled prosciutto on cheese sticks or cheese with crackers. Check out more appetizer ideas here: Appetizer Ideas for Valentine's Day.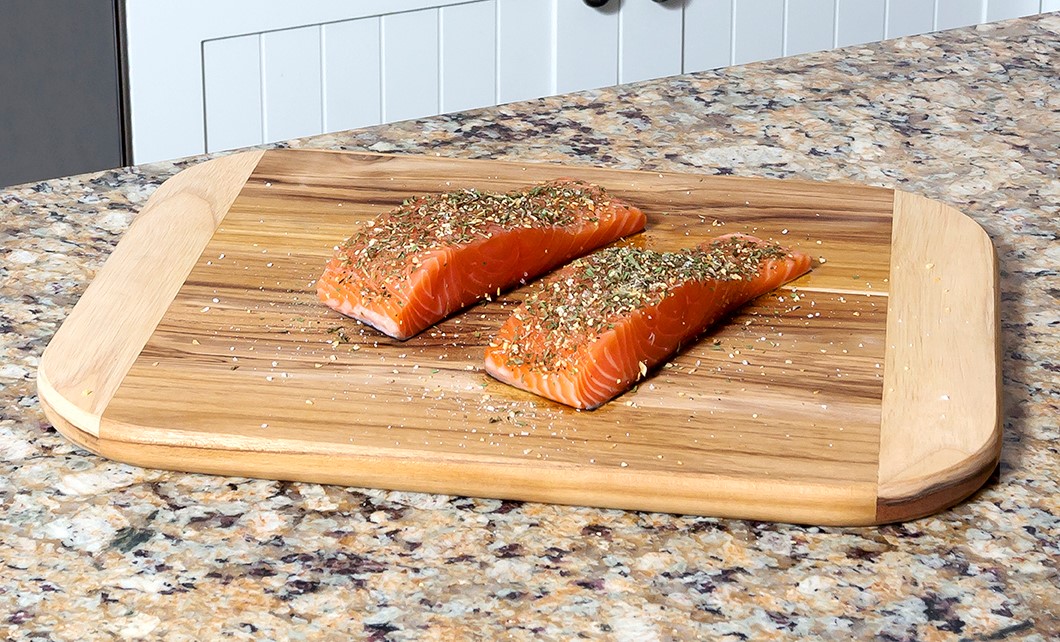 Now let's talk about the plat de résistance! Treat yourself and your special one to an elegant yet flavorful dish with baked salmon fillets with asparagus! First, place the salmon fillets on a Teak Cutting Board and season with a spice mix of your choice. Rub 1 to 2 tsp of spice mix onto a 1lb skinless salmon fillet. Bake as desired, et voila, it's ready to serve!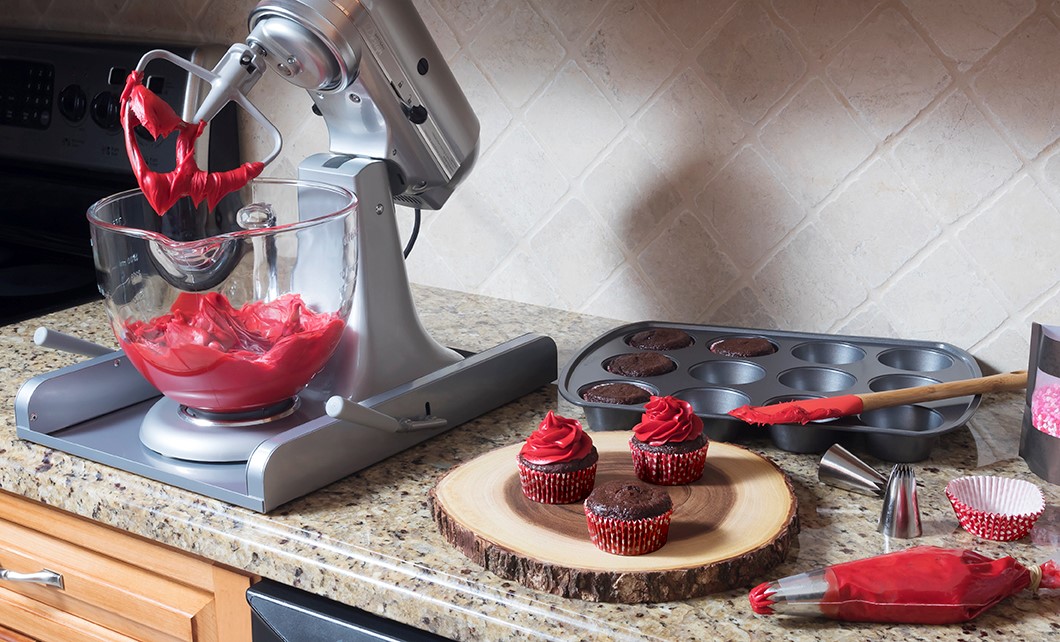 For dessert, prepare some chocolate cupcakes topped with a vibrant red buttercream frosting. With the help of a Rolling Appliance Platform, you're free from the hassle of trying to access and manipulate your heavy-duty mixer to prepare the frosting! With the appliance platform, you can easily roll out the mixer from under your kitchen cabinets and roll it back for storage when you are done!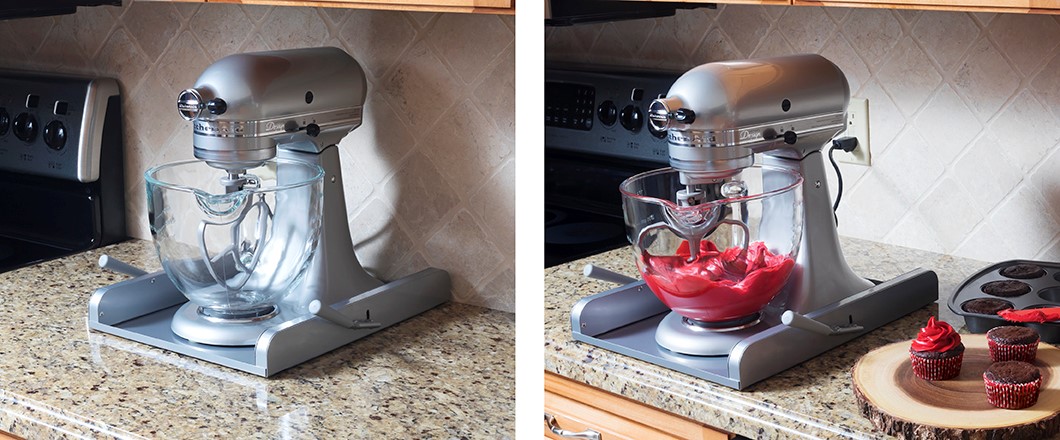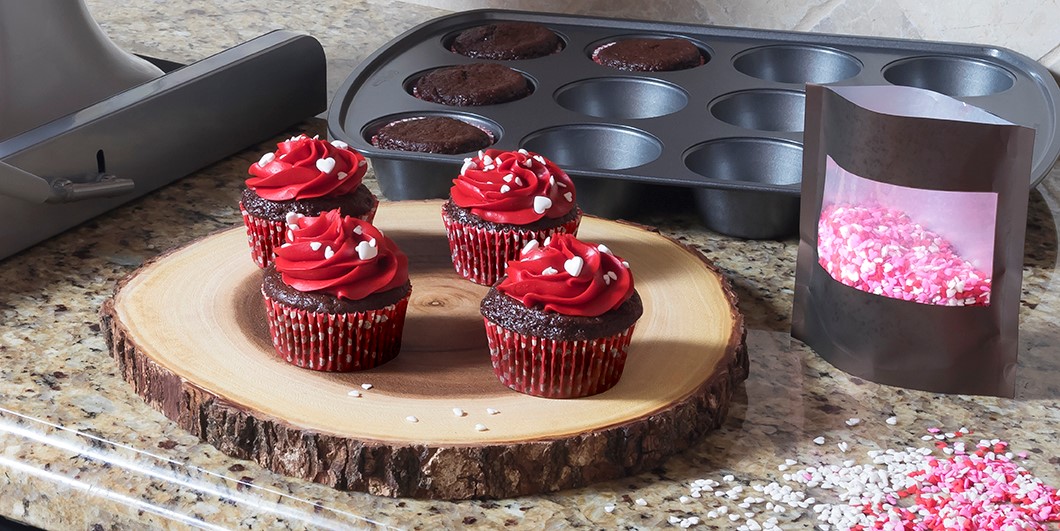 Ornament the cupcakes with cute little hearts and heart holders.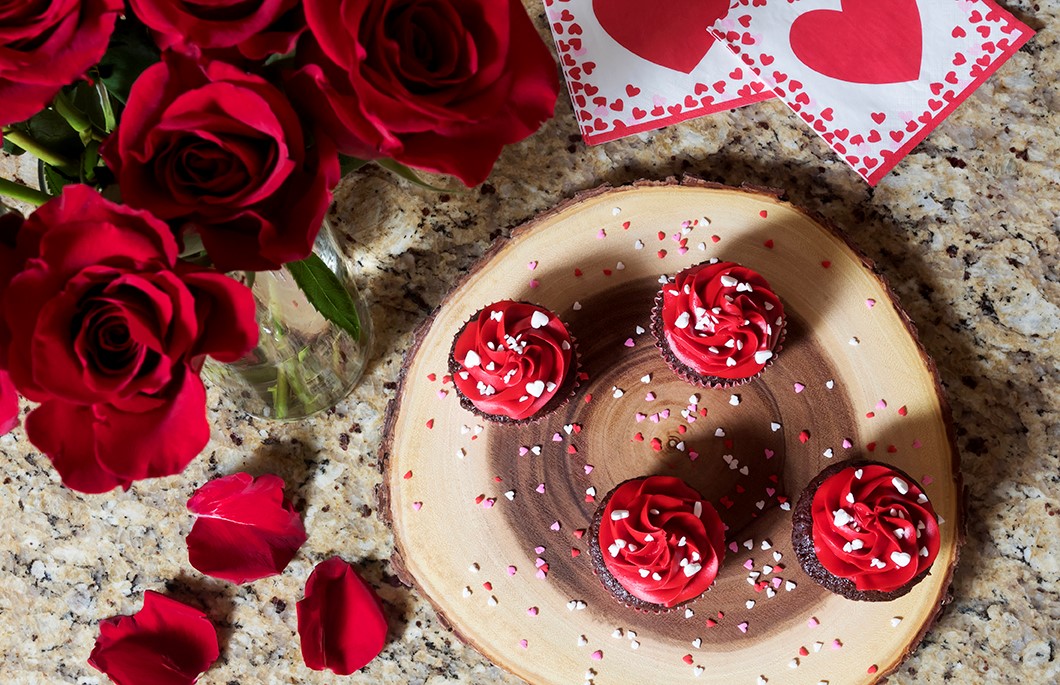 To serve these beautiful cupcakes, use an Acacia Board with Bark, and don't forget to place a bouquet of red roses next to it. That will definitely make your special one melt!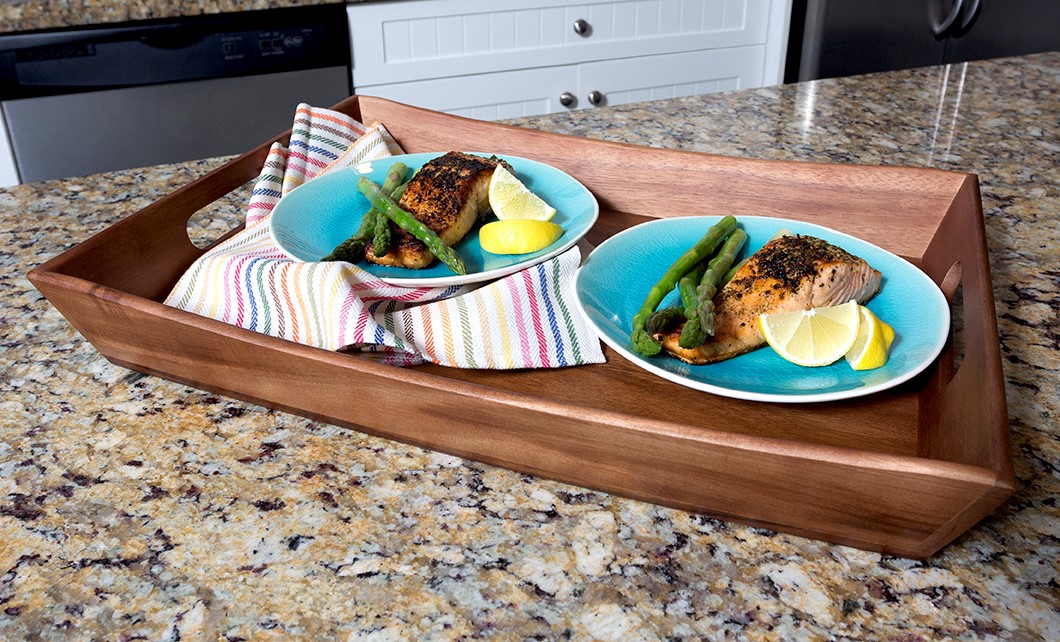 Decorating Your Dinner Tray
Now that your dinner is complete, there is one last crucial step...the presentation! Think about the elements of your dish. Visualize how the colors of the dish and platter may complement or contrast each other after plating. Here, the blend of baked salmon, asparagus and lemon plated alongside the deep, dark finish of the beautiful Acacia Curved Serving Tray match very well together and will surely impress your special one!
---
---