Stylish Kitchenware Essentials for Wedding Registries
When you're creating a wedding registry, there's a lot to consider. Of course, the style and color of accessories and dinnerware you'd like matters but it's important to spend some time focusing on your kitchen. After all, kitchen essentials often make up a majority of a wedding registry, and there's a lot to consider when you're selecting items for the kitchen.
Consider the types of food you make, how often you cook, how large your countertops are, and how much space you have available. The bottom line is that kitchen-related registry selections should be realistic and helpful. You want to be well equipped for the future you're building for your new family, that way you can better prepare for all of the new memories you will surely create.
Sit down with your partner and make a list of some kitchen items you've been pining for. Though your registry is a great opportunity to test the tools and products that have long been on your wish list, it's also important to consider the quality of the basic items that you use all of the time.
Check out some of the kitchen essentials we think every couple should register for (because you'll actually get some use from them!).
Stay Stylish With an Acacia Supreme Cutting Board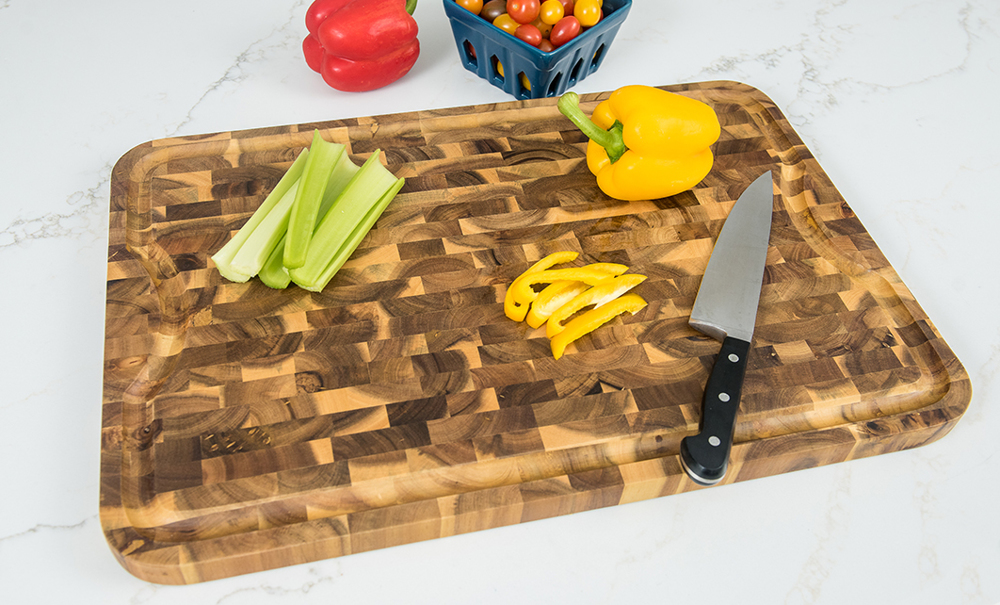 What better way to stay stylish than with a beautiful Acacia cutting board? This long-lasting wood is the perfect gift for your wedding registry. Acacia is known for its ability to be water and bacteria resistant, making it fabulous to cut and serve anything you desire. Put gifts on your wedding registry that continue to keep on giving, an Acacia Supreme End Grain Cutting Board does just that! This chic end-grain cutting board will leave your kitchen feeling trendy and up-to-date no matter how long you have it. Be prepared to impress your guests for years to come!
Spruce Up Your Kitchen With an Acacia Mortar and Pestle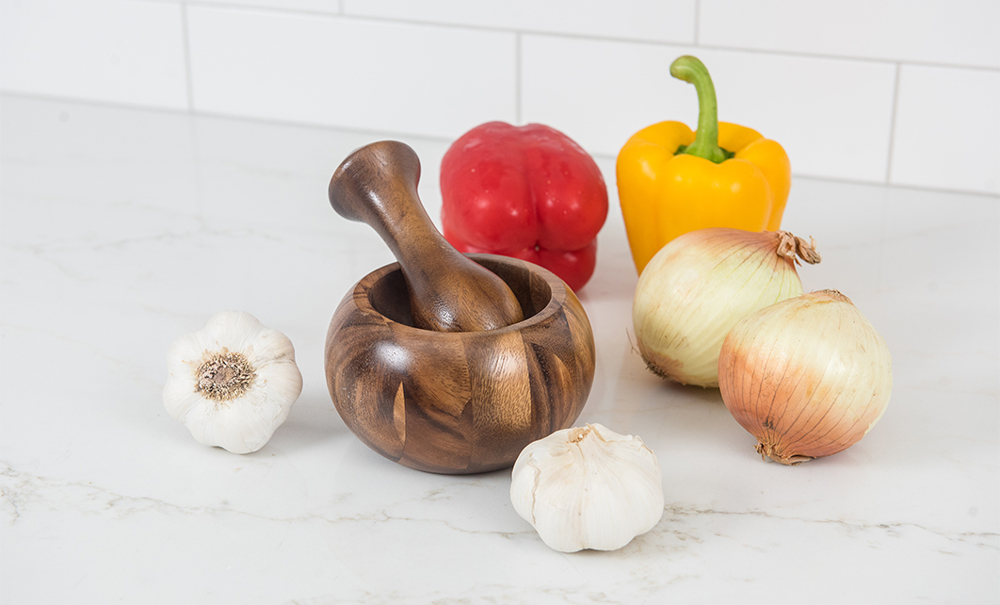 Something you might not realize you need for a trendy kitchen is an Acacia mortar and pestle! Spruce up your surroundings by having this kitchen staple showcase your personal style. The Acacia mortar and pestle gives your kitchen a sophisticated feel, even during the busiest of times. While you are planning for a wedding, times can get hectic trying to coordinate all the perfect details. Your wedding registry should be the last of your worries, add the Acacia mortar and pestle to your registry so your guests know exactly what to get!
Keep Your Countertop Organized With a Bamboo Roll-Top Bread Box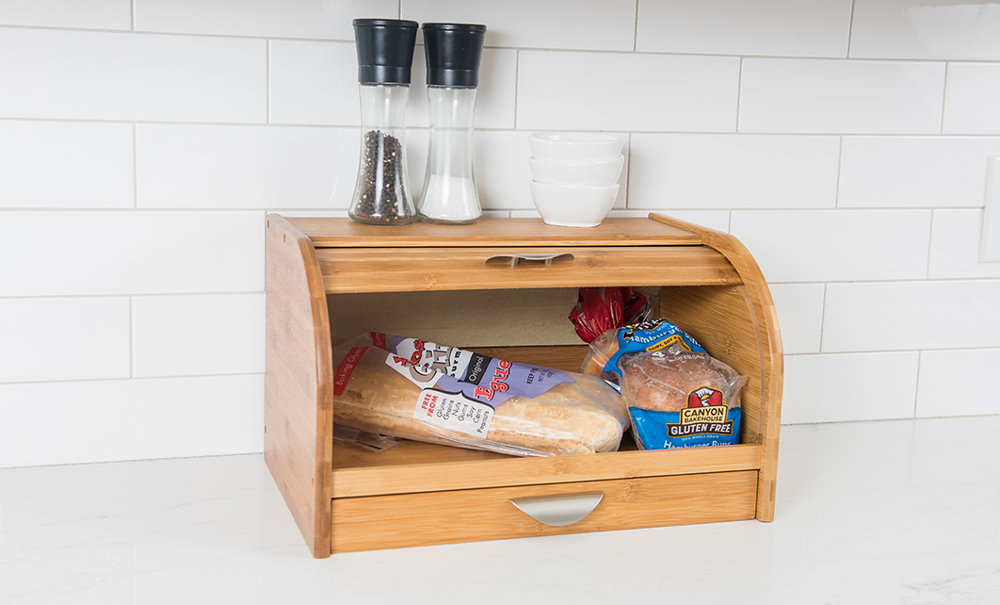 A bread box is the perfect kitchen staple for any newly married couple! The bamboo roll-top bread box with drawer keeps your counters organized while giving your kitchen the trendy breathe-of-fresh air it needs. This eco-friendly wood is perfect for those who want to incorporate nature into their kitchen surroundings. Let your guests choose gifts for your wedding registry that will last you a lifetime, bamboo is sturdy enough to outlast many of the plastic alternatives. Create a flawless wedding registry by adding the bamboo roll-top bread box to your list!
Stay Versatile With a Set of Bamboo Bowls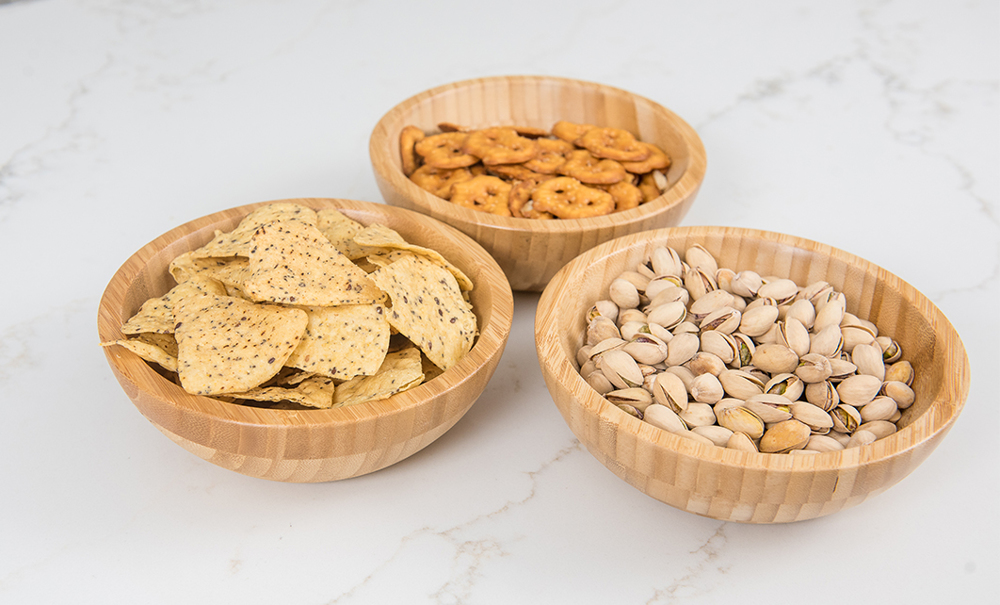 Need a grab and go snack? Or maybe craving some chips and dip? Whether you are throwing a party or just relaxing after a long day, these bamboo bowls are perfect for any occasion! Don't forget to add the bamboo set of four bowls to your wedding registry. With so much going on around the time of your wedding, you'll want to plan ahead. These bamboo bowls can be used in multiple ways, making it a seamless multi-purpose gift for your registry! Take the pressure off your wedding guests by adding these inexpensive, chic bamboo set of 4 bowls to your wedding registry list.
---
---