Festive Accents for Your Summer Gathering
With summer's warm weather and bright blue skies comes endless opportunities for entertaining family and friends. Whether you're celebrating a child's birthday, a graduation, 4th of July or coordinating with your community on an annual block party idea, planning a gathering requires choosing the perfect seasonal theme to tie the atmosphere together. We've compiled a fun and creative list of festive accents to improve your summer gathering, to help get the celebration started.
Take your outdoor celebration to the next level with these unique summer-friendly themes, which are perfect for creating memories and brightening up your outdoor living space. Wow your friends, family and guys with a gathering they're sure to remember for years to come.
Add Some Elegance With a Teak Serving Board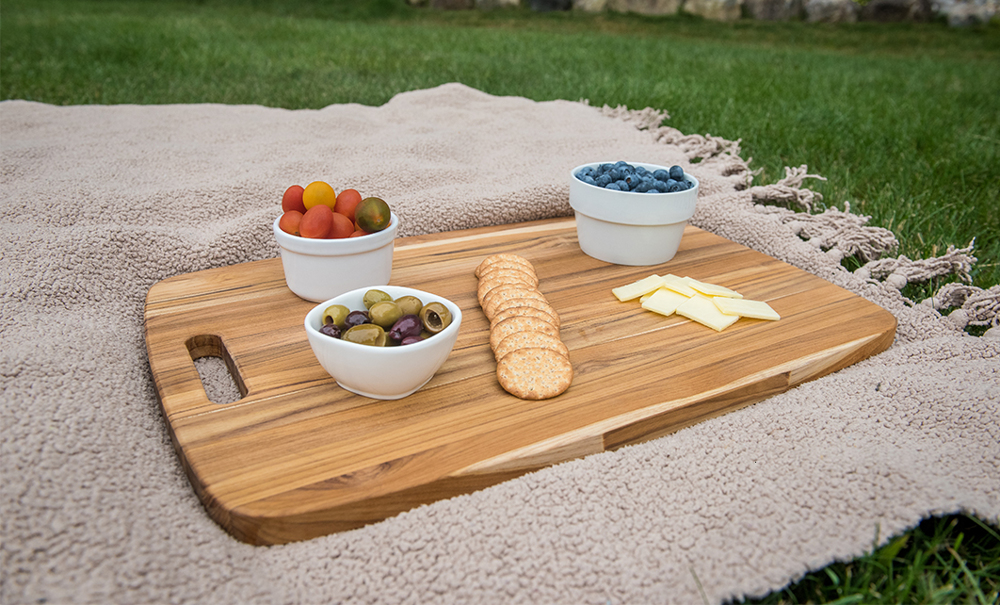 Is there a more elegant way to fit all your snacks on one tray? Grab an oversized serving board next time you plan to picnic. Beautiful teak wood brings grace and durability to your get-togethers throughout the scorching summer season. Teak is known to withstand heat and humidity, making it the perfect tagalong item this summer. Keep your other serving trays at home, instead let one oversized board do all the talking for you at your next summer gathering.
Serve Your Snacks with a Teak Edge Grain Cutting Board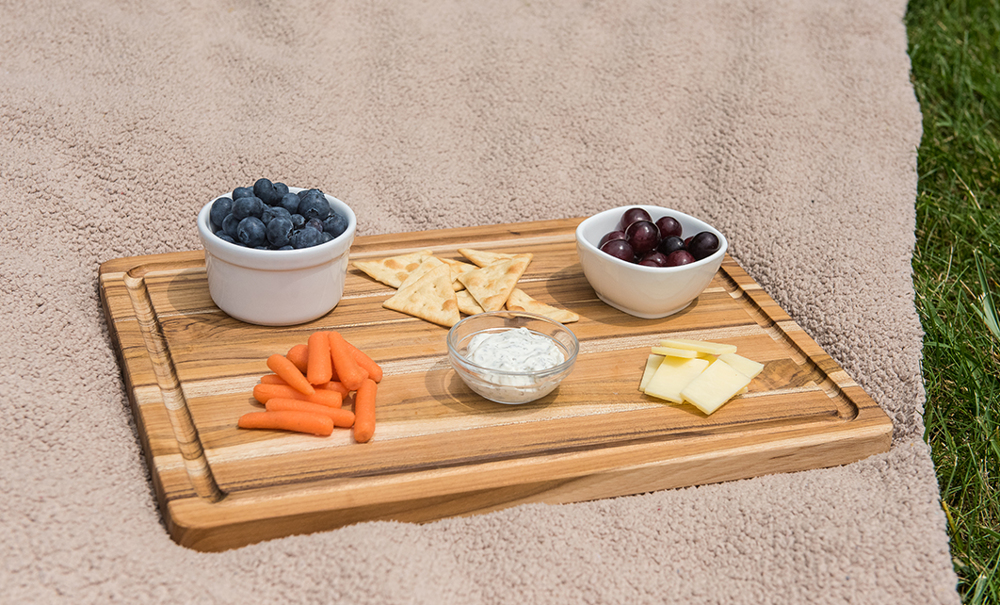 Need to brighten up your summer gathering? Bring a teak edge grain cutting board to serve your snacks on! This unique serving board will surely impress your guests, its natural hues compliment anything you serve on it. Spruce up your summer gathering by bringing your favorite teak edge grain cutting board along with you, it's the perfect way to keep your gathering chic while admiring the magnificence of the most durable tropical wood. Don't worry about keeping it dry, teak wood is resistant to all the summer conditions you will run into!
Showcase Your Treats with Teak Slab Serving Board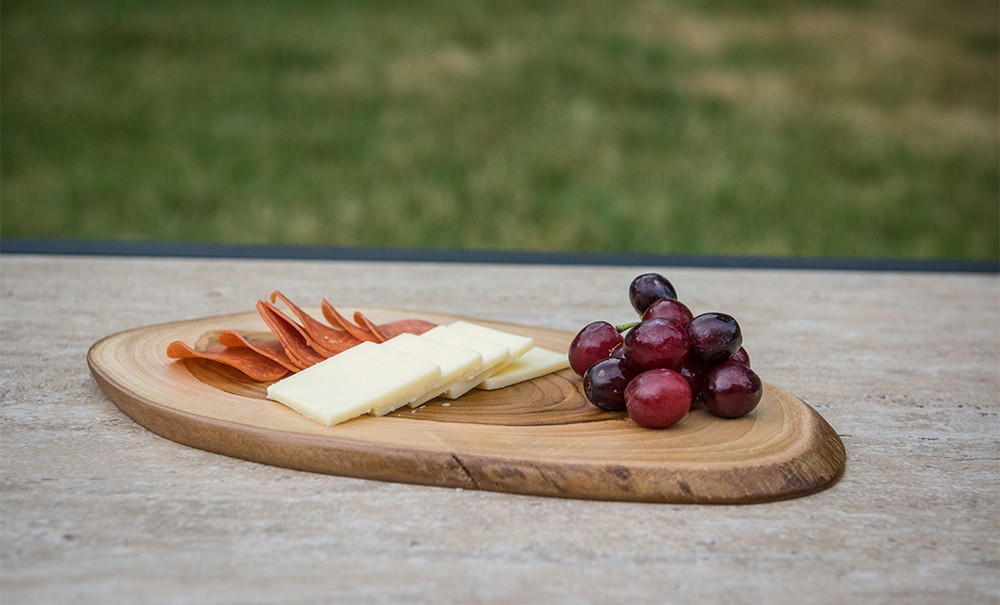 Add sophistication to your summer gathering by showcasing your snacks on stunning teak serving slabs. The beauty of teak serving slabs is surely a conversation starter, as the wood is comprised of unique patterns that offer resilience and exquisiteness. Teak is known for its water resistance, making it the perfect serving tray for any snack. Plastic is outdated and can be harmful to the environment; teak wood is one of the fastest growing tropical woods, making it the more sustainable and attractive option.
What's a Summer Gathering Without a Paddle Tray?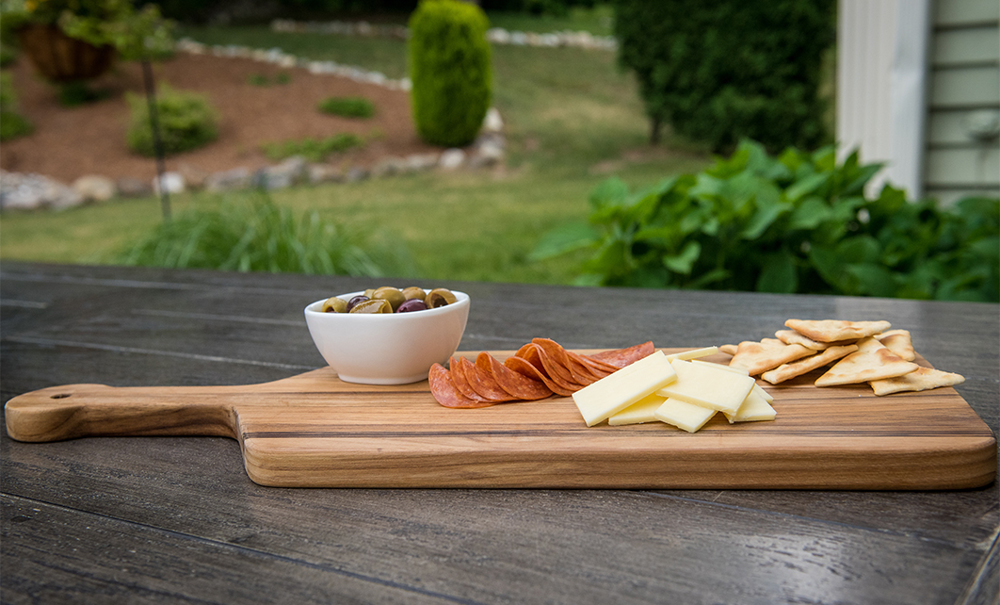 What's a summer gathering without the perfect paddle tray? This teak edge grain paddle goes hand and hand with any party. Serve your snacks in style with an effortless, earthy feel. Tropical teak wood is rich in natural oils, making it one of the sturdiest woods to defy warping and rotting. Bring your teak edge grain paddle anywhere with you this summer, its resilience makes it perfect for an early beach get together or a late afternoon snack near the poolside. Give your summer gathering natural style that will last you a lifetime with the elegant patterns of teak grain wood.
---
---