Creative Ways to Maximize Your Kitchen Storage Space
Without the use of smart storage ideas, your small kitchen can quickly feel claustrophobic and your everyday items can seem never-ending, especially if both counter and cabinet space is limited. It's hard to have a truly functional kitchen without taking the time to review how you're storing everything. Taking the time to do so can help you maximize every single inch of the area and ensure you aren't wasting valuable space.

We'll walk you through several basic tips to help maximize existing space with was little effort as possible.
Show Off Your Wine Collection With a Bamboo Stacking Wine Rack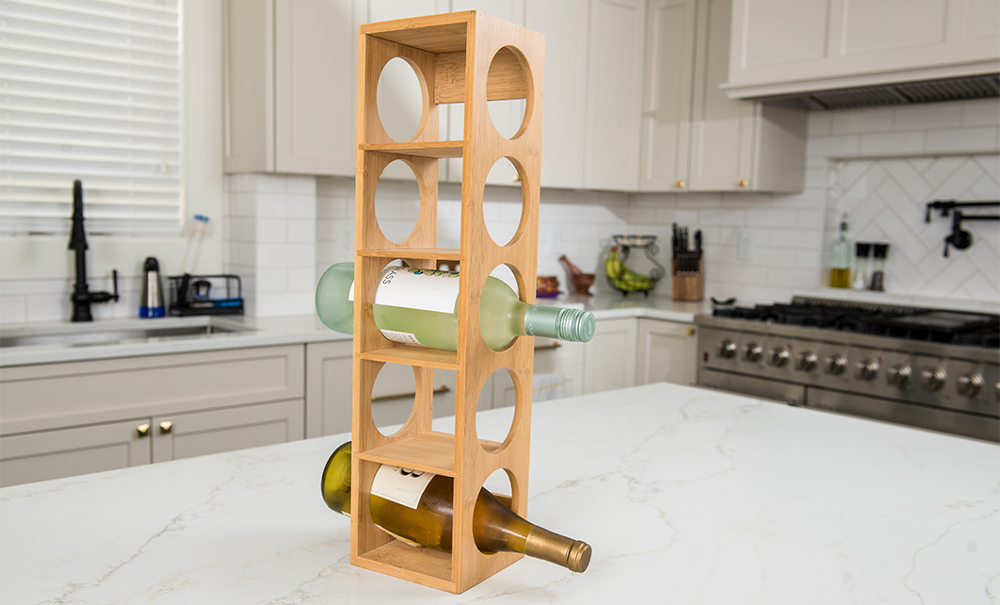 Show off your wine collection and maximize your storage space by making use of the Bamboo Stacking Wine Rack in your kitchen. For those who cannot reach the top shelf or do not want their wine floating around their kitchen, the 5-bottle bamboo wine rack is perfect to add to your background attire. Whether you are housing your favorite brews or just having an after work relaxing glass, you'll always know your wine bottles are stored safely on the 5-tier wine rack with its sturdy bamboo exterior.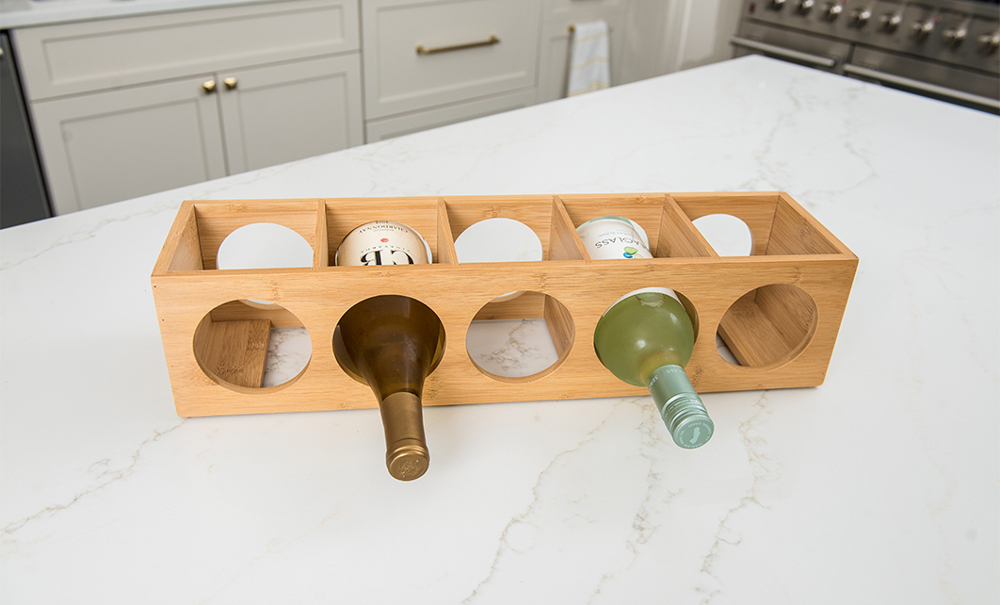 Even in larger kitchens, the bamboo rack is perfect to show your guests the sophistication of your wine collection. If you want to keep it simple, consider having your favorite red and white cooking wines within arm's reach to throw into those dishes that need a little sprucing up. Have peace of mind that your wine is stored on a durable rack that is long lasting.
Double Your Storage Space with a Bamboo Plate Rack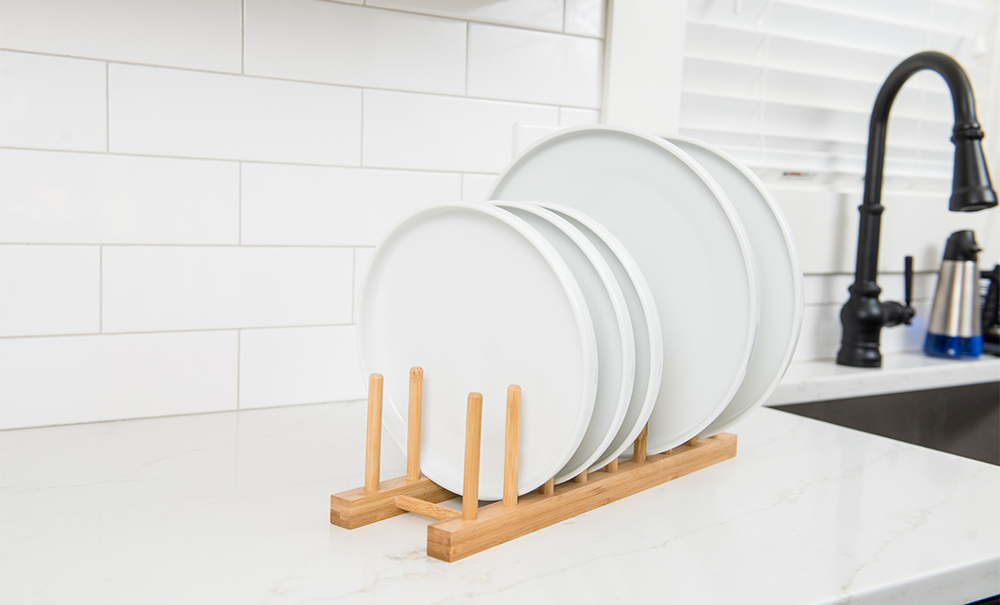 Plates can be a hard thing to organize in the kitchen; taking advantage of a plate rack can help with that. Make sure your glassware is treated with the respect it deserves by storing it on the Bamboo Plate Rack, it's unique bamboo material is natural resistant to harmful bacteria, allowing you to safely store everything from chinaware to baby bottles.

Instead of pushing your kitchenware to the back of the cabinet, place it where you can securely dry your most important dish items and make use of the storage space around you. Instead of losing sight of your favorite dishes, the bamboo risers allow you to actually see what you have.
A plate rack can double your storage space in an instance and prevent you from having to reach high shelves to get precious kitchenware. Rather than stuffing your pantry with dishes, align them evenly on any countertop with the Bamboo Plate Rack.
Sort Your Spices With a Bamboo Expandable Step Shelf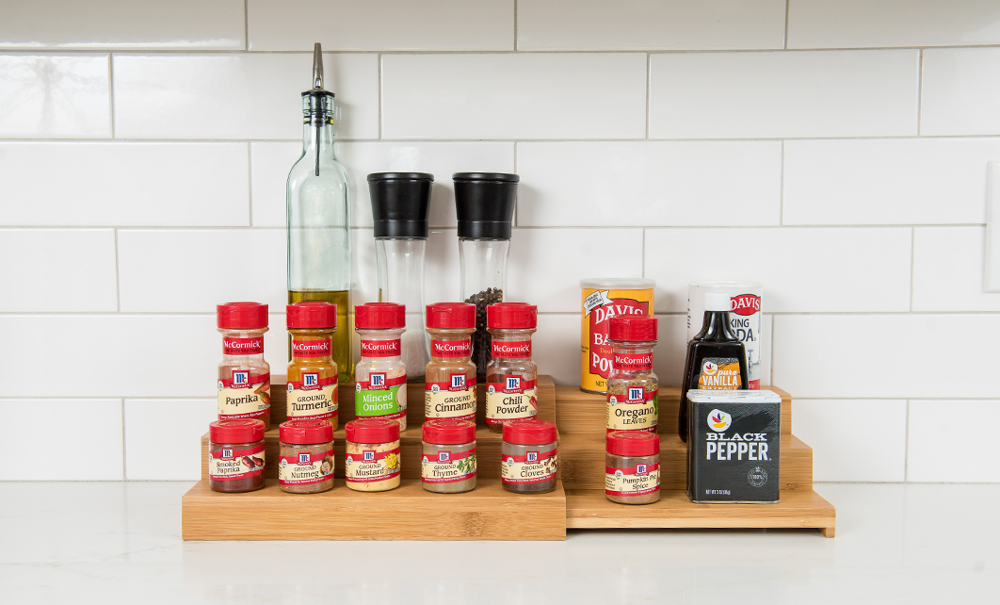 What better way to give your home more organizational space than placing the Bamboo Expandable Step Shelf in your kitchen? The charming design gives you the convenience of making your most delectable spices fit any space, making it even easier to cook up delicious dishes. Never spend time looking for another spice again, rather than stuffing your pantry with various bottles of spices, always know right away where to grab the one you need.

Whether you place your Bamboo Expandable Step Shelf at eye level or tucked away in a cabinet, you'll always know what spices you have in your kitchen so you're never be wondering if you're low on garlic powder while scrolling through the grocery store.
Stop shuffling through spice bottles and put them exactly where you can see them, the Bamboo Expandable Step Shelf is the perfect way to maximize your storage space and show guests your creative side.