A little love for your home
Posted on by Saige Avery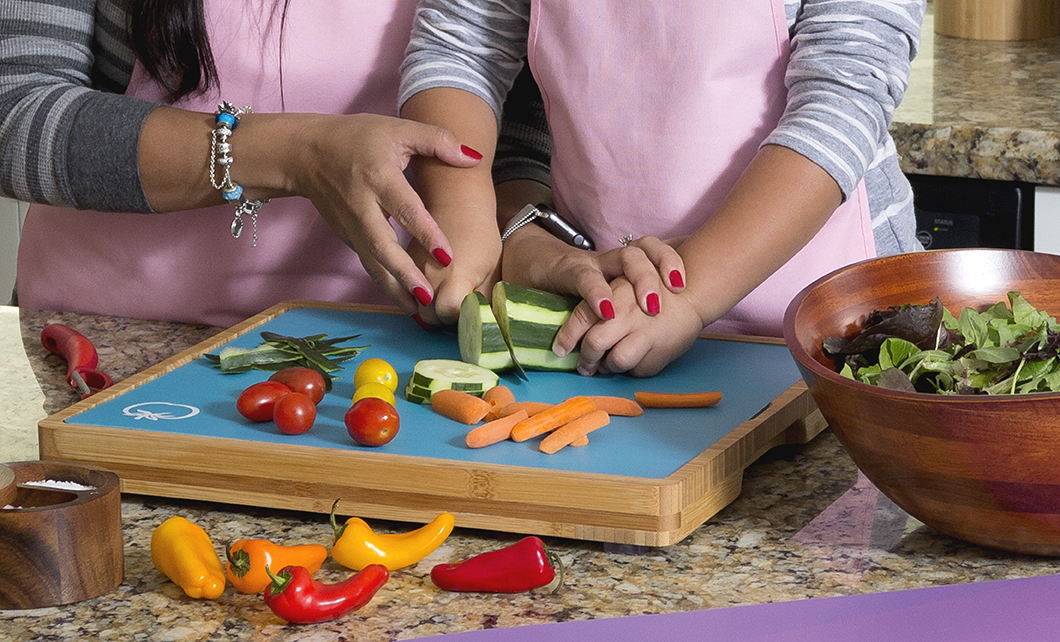 Cooking with Mom for Father's Day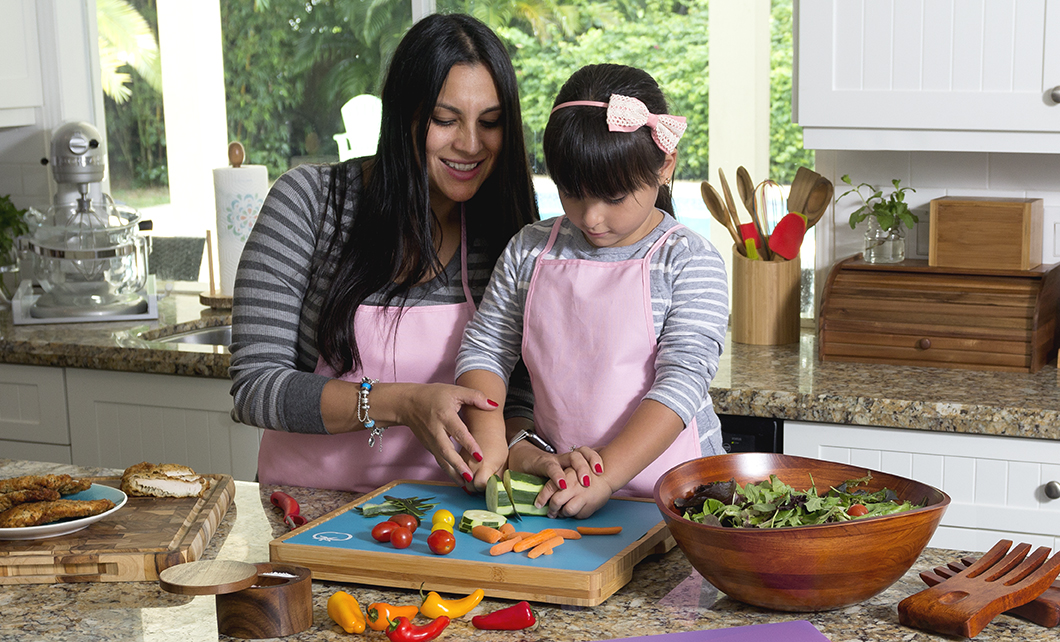 What better way to show how much you appreciate Dad than showing off your child's cooking skills? Surprise him with something to add to his backyard barbecue and allow your child to help with dinner without standing near a dangerous grill. Making the time to cook with your kids can create memories that last long after the meal is done.
Prepping the Kitchen
Every chef needs a safe, comfortable place to work, and that goes for your child as well. Clear off a counter, kitchen island, or table and place a sturdy chair or step stool against it for your child to use. When standing, the counter should be at about waist height on your child. Make sure the area is clean, organized and well-lit, so your child can see what she is doing. However, kids make a mess so keep the cleaning equipment nearby. To keep ingredients clean and separate, use this bamboo cutting board that comes with six removable color-coded cutting mats, which provide a sturdy cutting surface while eliminating the bacteria build-up that can occur when you cut directly into a wooden or bamboo cutting board.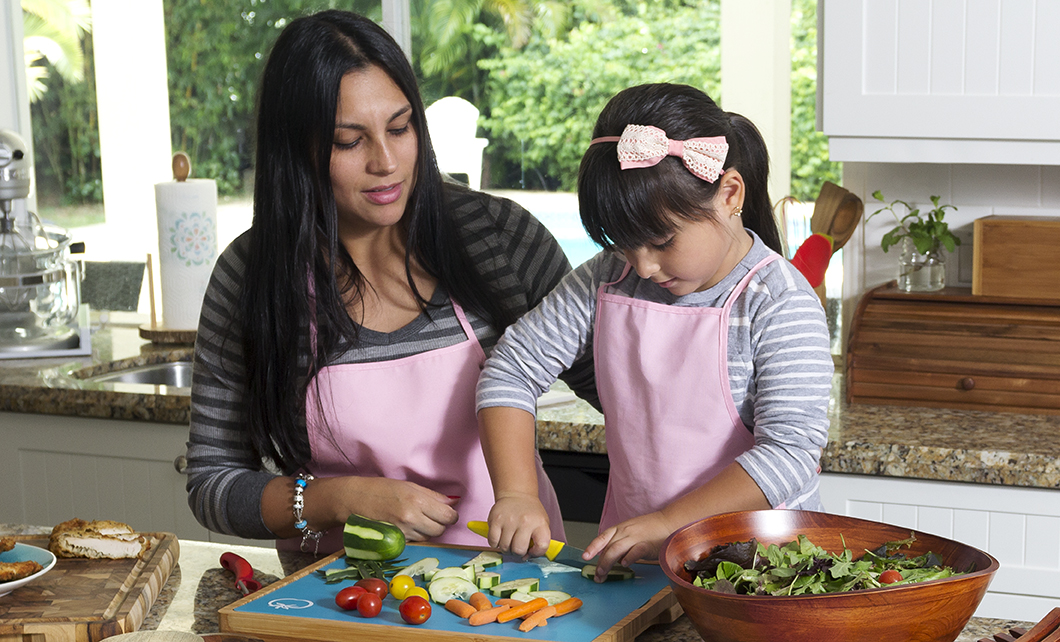 Your Mini Chef
Letting your little chef assist you makes them more likely to eat what they make and try new foods! First, assemble everything you'll need for your dish, including ingredients, knives, serving dishes, and a quality Teak End Grain cutting board. Good knife skills and how to be safe are important to teach your child at a young age if they want to be helping in the kitchen. Never let kids use knives without adult guidance and supervision. Guide their hand at first to make sure they're using them safely. Teach them to curl their fingers under while holding the item to be cut, so they don't accidentally cut their fingers. There's no rush! Encourage them to practice cutting as slowly as possible until they get the hang of it.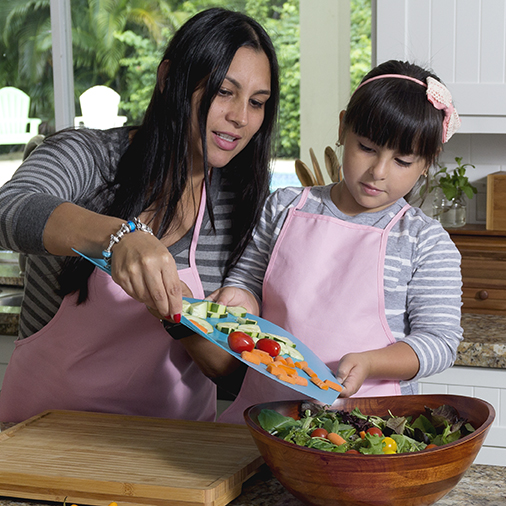 Tasks that Fit Your Child's Age
Giving your child a task that fits their age range allows them to master a skill before advancing to the next one. While older kids may be ready to cut vegetables using a knife, some may just be in charge of adding seasoning to the dish! If you're using salt or other spices in your preparation, keep them organized and accessible with the Acacia Divided Spice Box with Swivel Cover and the Bamboo Expandable Step Shelf, which is perfect for keeping the spice jars in sight and organized.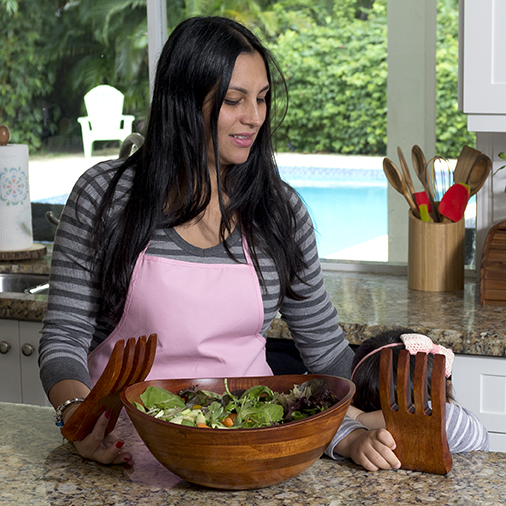 Praise Your Child
Make sure to tell your kids they are doing a good job. Hearing your praises will make them enjoy cooking and you may be inspiring a future chef. Also remember that kids have a shorter attention span so they may need to take a break!
Try the following simple phrases to keep your child attentive and motivated:
"You are very good at that"
"I knew you could do it"
"Couldn't have done it better myself"
"Keep up the good work"
"We all make mistakes, try again"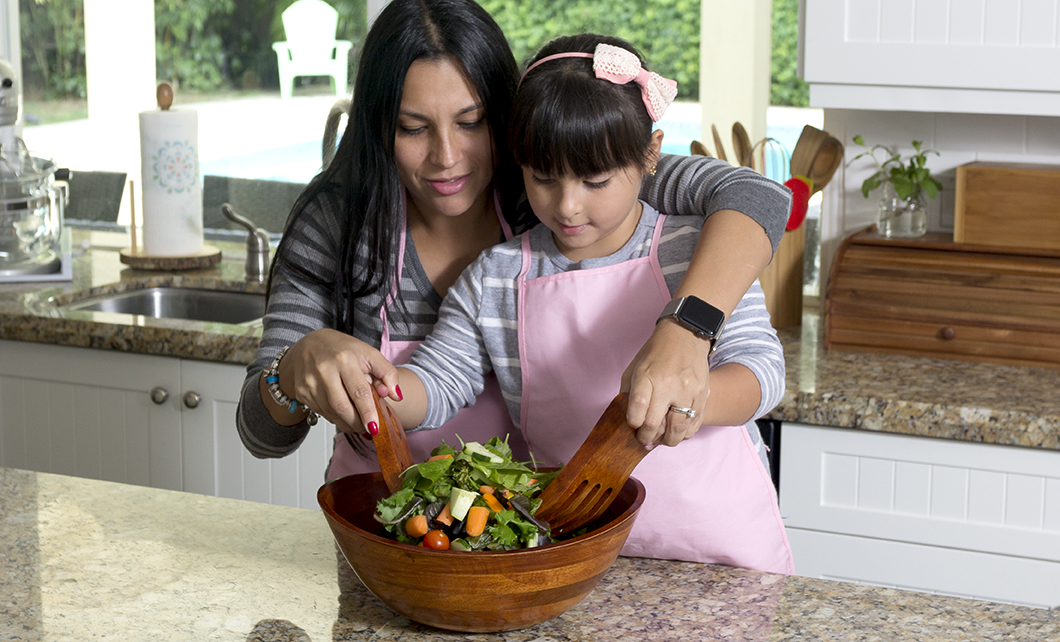 Simple, Easy, Fun!
Tossing the salad is a fun and easy job that your child will enjoy! Using the Salad Hands will help them thoroughly mix together the ingredients (with some help). Half the fun of cooking is creating a beautiful dish to serve to dad on Father's Day. Salad is a simple, colorful dish that's easy for kids to create. Cooking in the kitchen is a fun activity for you and your child and dad is going to think any dish you make is tasty!
---
---