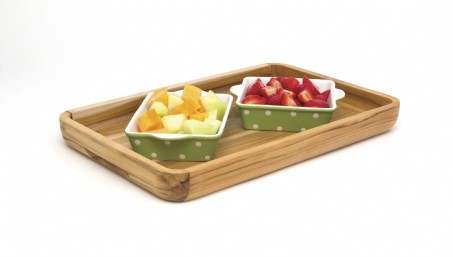 Teak Serving Tray with Rounded Sides
Item# 7266

Overview
The Teak Large Serving Tray with Cutout Handles is perfect to serve breakfast to the ones you love. The wood tray is the ultimate in convenience, offering plenty of surface area to transport large quantities of food. The high side walls help keep things on the tray and the handle cutouts make for easy carrying. Teaks resistance to moisture and abundant natural oils makes it an ideal wood for culinary applications. The Teak Large Serving Tray is an elegant and wonderful addition to any home. Durable and beautiful this Teak Large Serving Tray will add a beautiful dimension to your serving as well as offer years of use.
Ideal for seasoning and serving your favorite dishes straight off the stove or grill
Practical inlay handles that add to its convenient use
A necessary kitchen accessory that adds both beauty and function
Impressive grain and natural golden coloration
Low maintenance and high durability
Made from durable and sustainably grown Teak in Brazil
Teak wood is a very hard wood with natural oils making it suitable for indoor and outdoor use
Sustainability in the growth and harvest of this product certified by the Forest Stewardship Council (FSC)
Measures (W x D x H"): 18 ¾" x 12 ¼" x 2"
Dimensions & Specifications
| | |
| --- | --- |
| Dimensions (W x D x H in.): | 18 ¾" x 12 ¼" x 2" |
| Material: | Teak |
| UPC: | 026914-726607 |
| Carton Pack: | 4 |
| Carton Weight: | 12.90 lbs |
Care
Hand wash with a mild soap and cool water. Do not soak. Do not put in the dishwasher, microwave or refrigerator. Extreme changes in temperature will cause the material to crack over time. Dry thoroughly. Occasional use of mineral oil will help maintain appearance.