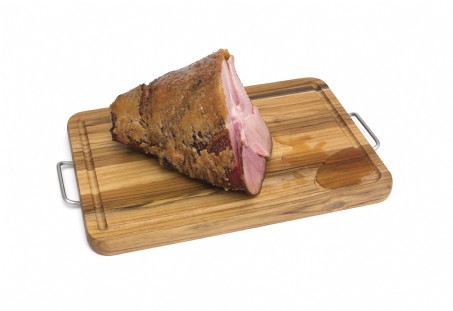 Teak Large Carving Board with Metal Handles
Item# 7260

Overview
Our Teak Carving Baords are built of durable solid construction and meant to last a lifetime. They are perfect for chopping meats, fruits and vegetables. The natural vegetable oil finish helps to seal the cutting board and protect it from harmful bacteria. Teaks resistance to moisture and abundant natural oils makes it an ideal wood for culinary applications. Durable and beautiful this Teak Edge Grain Cutting Board will add a beautiful dimension to your serving as well as offer years of use.
A must have for your grill and barbecue
Impressive grain and natural golden coloration
Essential and versatile
Low maintenance and high durability
Outer juice groove traps liquids and prevents spills
Made from durable and sustainably grown Teak in Brazil
Teak wood is a very hard wood with natural oils making it suitable for indoor and outdoor use
Sustainability in the growth and harvest of this product certified by the Forest Stewardship Council (FSC)
Measures (W x D x H"): 19 ¼" x 12" x 1 ¼"
Dimensions & Specifications
| | |
| --- | --- |
| Dimensions (W x D x H in.): | 19 ¼" x 12" x 1 ¼" |
| Material: | Teak |
| UPC: | 026914-726010 |
| Carton Pack: | 4 |
| Carton Weight: | 20.00 lbs |
Care
Hand wash with a mild soap and cool water. Do not soak. Do not put in the dishwasher, microwave or refrigerator. Extreme changes in temperature will cause the material to crack over time. Dry thoroughly. Occasional use of mineral oil will help maintain appearance.