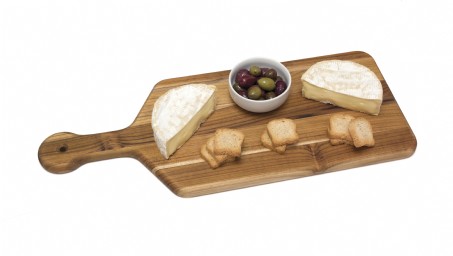 Teak Edge Grain Paddle Board
Item# 7225

Overview
For presenting hors d'oeuvres, cheeses, meats or snacks, the Edge Grain Paddle Board has the style to make an impressive display. You can use this Edge Grain Paddle Board as a serving tray, decorative centerpiece or cutting board. It's a must-have for your table whether you're serving up cheese or appetizers at a family dinner, holiday gathering or cocktail party. Teaks resistance to moisture and abundant natural oils makes it an ideal wood for culinary applications. Durable and beautiful this Teak Edge Grain Cutting Board will add a beautiful dimension to your serving as well as offer years of use.
Stylish and functional
Allows for stunningly decorative and delicious display
Perfect for serving hors d'oeuvres at a dinner party or happy hour
Impressive grain and natural golden coloration
Low maintenance and high durability
Made from durable and sustainably grown Teak in Brazil
Teak wood is a very hard wood with natural oils making it suitable for indoor and outdoor use
Sustainability in the growth and harvest of this product certified by the Forest Stewardship Council (FSC)
Measures (W x D x H"): 20" x 8" x ¾"