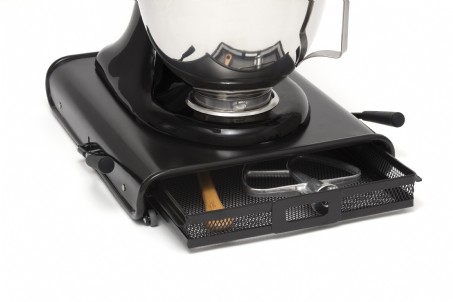 Rolling Drawer Space Saver, Black
Item# 8700B

Overview
It is important to make the most of your kitchen counter especially when it's home to a mixer, juicer or food processor. This slim, space-saver drawer is durable enough to hold a countertop appliance on top, while providing a slide-out drawer on bottom for spatulas, spoons, appliance attachments or filters. The rolling drawer features unique rollers allow the drawer to be easily moved back and forth on any counter top. This is the perfect modern day clutter solution to your crowded countertops!
A perfect solution to storing and organizing accessories and attachments to heavy kitchen appliances.
Features unique, rear rollers allowing the drawer to be easily moved on any countertop.
Push lever holds drawer in place when machines in use.
Slide-out drawer provides easy access to accessories and chargers.
Provides additional space for storing blender, mixer, juicer etc.
Black powder finish compliments any decor.
Easy to clean and maintain.
No assembly required.
Made from contemporary wire-mesh metal.
Measures (W x D x H"): 14 ¾" x 15" x 2 ¾"