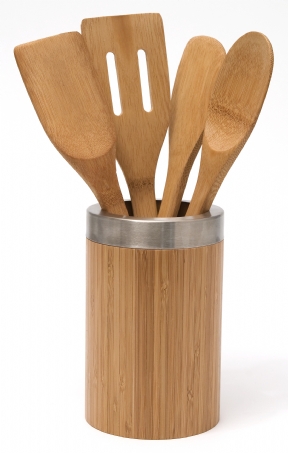 Bamboo Tool Holder with Metal Rim, 4 Tools Included
Item# 8026

Overview
Cook up something amazing with our Bamboo Tools! These beautiful tools are a must for any well-equipped kitchen. These items are constructed of Bamboo due to its popularity around the world for versatility, function, beauty, and sustainability. Crafted from bamboo, it features an understated design with a neutral natural finish. Durable bamboo tools will add a beautiful dimension to your serving as well as offer years of use. This set includes 4 tools as well as a tool holder with a metal rim to keep you organized in the kitchen!
Safe for use on all cooking surfaces.
Gentle on your pots and pans.
Set of 4 versatile bamboo tools in a bamboo tool holder with metal trim for a contemporary look
Made from eco-friendly bamboo, a natural and renewable resource
Measures (Dia x H"): 4 x 12 ¼
What's Included
1 round spoon, 1 slotted spatula, 1 spatula, 1 pointed spoon
Care
Hand wash with a mild soap and cool water. Do not soak. Do not put in the dishwasher, microwave or refrigerator. Extreme changes in temperature will cause the material to crack over time. Dry thoroughly. Occasional use of mineral oil on the inside will help maintain its appearance.