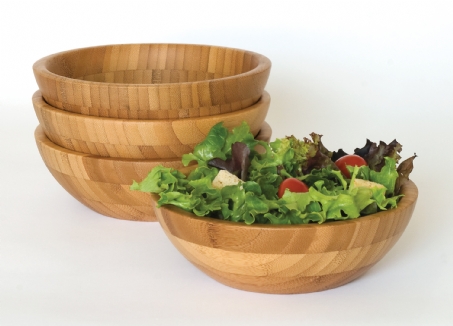 Bamboo Small Salad Bowls, 4-Piece Set
Item# 8203-4

Overview
Perfect for serving everything from individual salads to movie-night popcorn, this beautiful bowl is crafted from durable and attractive bamboo. It features an understated design with a neutral natural finish. The rich texture of the bamboo also pairs extremely well with various distressing practices that add warmth and character to the home. Fun and festive, you'll find our bamboo serveware bowls, will be at the center of your parties for years to come.
Set of 4 individual size bowls that match our large salad bowl.
Perfect for salads, fruits, or even cereal.
Made of environmentally friendly bamboo.
Complements any décor.
Measures: 7" Dia x 2 ¼" H (each bowl)
Dimensions & Specifications
| | |
| --- | --- |
| Dimensions: | 7" Dia x 2 ¼" H (each bowl) |
| Material: | Bamboo |
| UPC: | 026914-820343 |
| Carton Pack: | 1 |
| Carton Weight: | 13.00 lbs |
Care
Hand wash with a mild soap and cool water. Do not soak. Do not put in the dishwasher, microwave or refrigerator. Extreme changes in temperature will cause the material to crack over time. Dry thoroughly. Occasional use of mineral oil on the inside will help maintain its appearance.