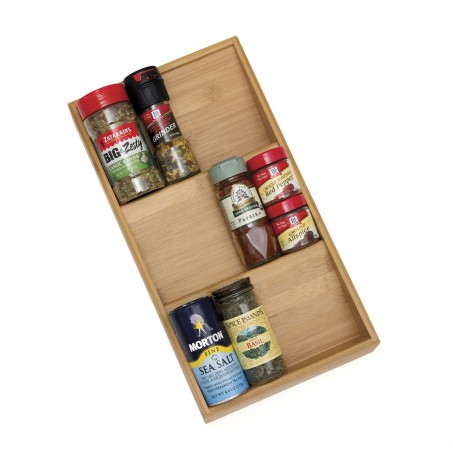 Bamboo In Drawer Spice Organizer Tray
Item# 8886

Overview
Keep spices conveniently stored in any drawer with Lipper International's In Drawer Spice Organizer Tray. With a 3-tiered configuration for total organization and easy access, this Bamboo organizer tray holds up to 12 spice bottles and can be stored in a drawer or on a countertop. This Bamboo product can make a dramatic impression on your home by adding an exotic elegance and organization to any room.
Neatly store spice bottles on your kitchen countertop and in cabinet drawers

Slanted shelves hold up to 4 bottles each and make it easier to read jar labels and access tray contents; use it to store herbs, powders, tinctures, seeds, salts, and curries

An attractive alternative to plastic.
Great for small knick-knacks.
Made of environmentally friendly bamboo.
Sturdy construction.
No assembly required.

Measures (W x D x H"): 8" x 15" x 2"
Dimensions & Specifications
| | |
| --- | --- |
| Dimensions (W x D x H in.): | 8" x 15" x 2" |
| Material: | Bamboo |
| UPC: | 026914-888602 |
| Carton Pack: | 6 |
| Carton Weight: | 9.70 lbs |
Care
Easy to wipe clean with soap and water; air dry and do not submerge