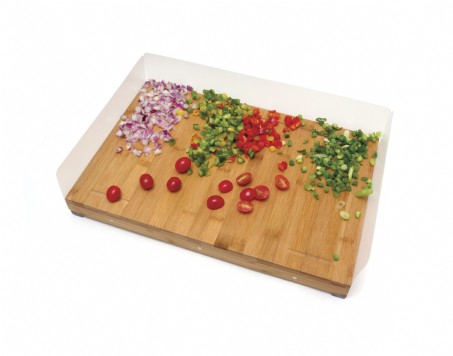 Bamboo Edge Guard Cutting Board with 4 Magnetic Acrylic Sides
Item# 8870

Overview
Reduce food waste, cut down on cleanup, and make the most of the space you have with the Bamboo Edge Guard Cutting Board from Lipper International. The edges of the cutting board have a steel strip inlaid along the entire perimeter and the plastic sides have strong magnets embedded along one edge where the magnetic bond is strong enough to act as a barrier to food, yet can be removed with minimal effort. From containing flying kernels while chopping corn to scrapping the chopped food into a pan or bowl the sides can be customized to your preference. A must-have cooking accessory to any cook or chef that needs to make the most of his or her cooking space while effectively reducing cleanup.
Bring both functionality and design to your kitchen
Integrated with 4 magnetic acrylic sides which slide out for a multitude of uses
Eliminate excessive clean up by confining ingredients to the cutting board during food preparation
Easily transfer food to cookware or serveware by using acrylic sides as a scraper
Customize its use to suit your cooking needs by using one side at a time or all at once!
Features non-slip silicone corners to prevent slippage during use
Made from durable, eco-friendly bamboo and polypropylene (a BPA free, food grade plastic)
Measures (W x D x H"): 18 ⅜" x 12 " x 1 ⅜"
What's Included
1 bamboo cutting board
4 BPA free, non-toxic magnetic acrylic sides
Dimensions & Specifications
Dimensions:
18 ⅜" x 12" x 1 ⅜"
Material:
90 % Bamboo
10 % Acrylic-Plastic
UPC:
026914-887018
Carton Pack:
4
Carton Weight:
18.10 lbs
Care
Hand wash with a mild soap and cool water. Do not soak. Do not put in the dishwasher, microwave or refrigerator. Extreme changes in temperature will cause the material to crack over time. Dry thoroughly. Occasional use of mineral oil on the inside will help maintain its appearance.