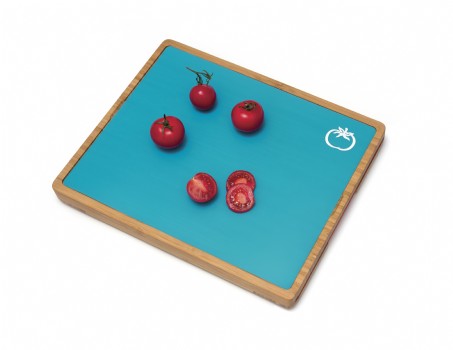 Bamboo Cutting Board with 6 Cutting Mats
Item# 8869

Overview
A beautiful and functional bamboo cutting board features six removable color-coded cutting mats with labels to indicate which type of food to use with which mat so there's no cross contamination. This board is designed to inlay and store each mat, providing a sturdy surface for cutting while eliminating the build up of bacteria due to direct carving on the surface of the bamboo boards. The flexible mat material makes it easier to transfer food to pots and bowls and features a non-slip grip to keep the mats in place during use. Durable mats are made from antibacterial, food-safe plastic with a thin profile to save storage space.
Bring both functionality and design to your kitchen
Bamboo cutting board is designed to inlay and store each of 6 polypropylene (a BPA free, non-toxic plastic) cutting mats
Customize its use to suit your cooking needs by using one mat at a time or all at once!
Each mat features a waffle gripped bottom, preventing slippage on most counter top surfaces
Made from durable, eco-friendly bamboo and polypropylene (a BPA free, food grade plastic)
Measures (W x D x H"): 16" x 13 ⅛" x 1 ⅝"
What's Included
1 bamboo cutting board
6 polypropylene (BPA free, non-toxic plastic) cutting mats color coded for the following uses:
Fruits and Vegetables
Pastry
Fish
Poultry
Pork
Beef
Dimensions & Specifications
Dimensions:
16" x 13 ⅛" x 1 ⅝"
Material:
70% Bamboo
30% Polypropylene (a non toxic, Food Grade Plastic)
UPC:
026914-886905
Carton Pack:
4
Carton Weight:
21.00 lbs
Care
BAMBOO BOARD: Hand wash with a mild soap and cool water. Do not soak. Do not put in the dishwasher, microwave or refrigerator. Extreme changes in temperature will cause the material to crack over time. Dry thoroughly. Occasional use of mineral oil on the inside will help maintain its appearance.
BPA-free Polypropylene mats - Dishwasher safe.