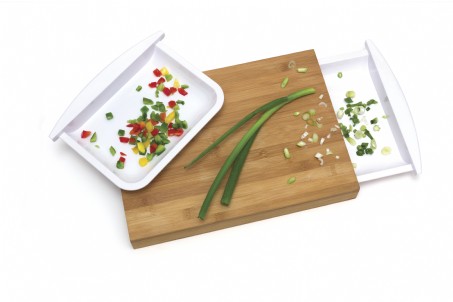 Bamboo Cutting Board with 2 Half Trays
Item# 8820

Overview
The problem of where to put your cut vegetables is finally solved! This Bamboo Cutting Board with two Half Trays is an innovative cutting board that features a sliding tray that conveniently collects food that you slice and chop. This allows for the easy transfer from cutting board onto your pot, pan, or plate. This versatile kitchen accessory also collects juices and liquids in the trays to keep your countertop clean! Crafted from bamboo, it features an understated design with a neutral natural finish.
Bring both functionality and design to your kitchen
Integrated with 2 removable trays which slide out for easy transfer of food to cookware
Customize its use to suit your cooking needs by using one tray at a time or both at once!
Each tray is made from ABS (a BPA free and non-toxic plastic) and measures 5 ¾" W x 8" D x 1 ⅜" H
Made from durable, eco-friendly bamboo and ABS (a BPA free, food grade plastic)
Measures (W x D x H"): 16 ⅛" x 10" x 1 ⅞"
What's Included
1 bamboo cutting board
2 ABS (BPA free, non-toxic) half trays
Dimensions & Specifications
Dimensions:
16 ⅛" x 10" x 1 ⅞"
Material:
68 % Bamboo
32 % ABS (Food Grade Plastic)
UPC:
026914-882000
Carton Pack:
6
Carton Weight:
18.00 lbs
Care
Hand wash with a mild soap and cool water. Do not soak. Do not put in the dishwasher, microwave or refrigerator. Extreme changes in temperature will cause the material to crack over time. Dry thoroughly. Occasional use of mineral oil on the inside will help maintain its appearance.