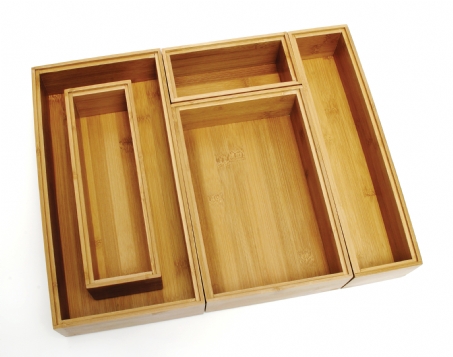 Bamboo Organizer Boxes, 5-Piece Set
Item# 88005

Overview
Bamboo Organizer Boxes features (5-piece set) is used to organize and store your household items. They're just as functional inside of a drawer as they are atop a dresser or countertop. Use them in the bath for storing jewelry and cosmetics, or in the closet for corralling keys and spare change. They're also right at home in the office for organizing pens, notepads and paper clips. Crafted from bamboo, it features an understated design with a neutral natural finish. This modern day clutter solution is expandable to accommodate various drawer widths and item sizes.
Organize in the kitchen, office, bathroom, shed – the possibilities are endless.
Great for small knick-knacks.
An attractive alternative to plastic.
Varied sizes make for easy storage in one convenient set.
Made of environmentally friendly bamboo.
What's Included
Set includes five boxes, one of each of the following sizes:
3" x 6" box
3" x 9" box
3" x 12" box
6" x 9" box
6" x 12" box

Dimensions & Specifications
| | |
| --- | --- |
| Dimensions: | 15" x 12" x 2" (set package) |
| Material: | Bamboo |
| UPC: | 026914-880057 |
| Carton Pack: | 6 |
| Carton Weight: | 22.94 lbs |