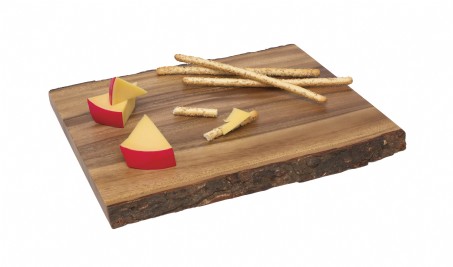 Acacia Slab Server with Bark
Item# 1027

Overview
A rustic item fashioned directly from the Acacia tree. This hardwood has a dark, reddish-brown heartwood with a lighter sapwood, creating a geometry of color that will naturally draw the eye. Acacia is almost always warm in color, which means that it'll warm up any room you choose it for. When you want a natural motif that evokes the charms of the outdoors, acacia products are your best bet. This piece looks lovely in rooms with other wood accents, because it can hold its own without being overwhelming.
A contemporary item with rustic appeal
Each piece is individually handcrafted and unique
Great for serving cheese, crackers, and hors d'œuvres
Beautiful rich dark color compliments any decor
Measures (W x D x H"): 16" x 13" x 1" size will vary
Made from durable and environmentally friendly Acacia
Dimensions & Specifications
| | |
| --- | --- |
| Dimensions (W x D x H in.): | 16" x 13" x 1;" size will vary |
| Material: | Acacia |
| UPC: | 026914-102700 |
| Carton Pack: | 6 |
| Carton Weight: | 28.66 lbs |
Care
Hand wash with a mild soap and cool water. Do not soak. Do not put in the dishwasher, microwave or refrigerator. Extreme changes in temperature will cause the material to crack over time. Dry thoroughly. Occasional use of mineral oil on the inside will help maintain its appearance.