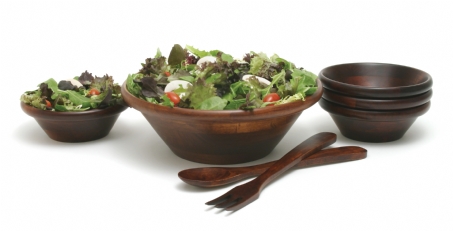 Cherry Finished Round Rim Bowls with Servers, 7-Piece Set
Item# 290-7

Overview
These Cherry Finished Round Rim Bowls with Servers (7-piece set) are made from natural wooden material. A rich, dark cherry finish adds modern elegance to this gorgeously crafted bowls made of natural Asian beechwood. These bowls are durable for reliable performance and a cherry finish to complement most any decor that will never go out of style. The Cherry Finished Rice Bowls set are perfect for dinner with the entire family! Comes with 2-piece set of a fork and paddle, large serving bowl, and four individual bowls. The servers are the perfect accessory for your bowls. Use them for tossing and serving salad.
Perfect for dinner with the family.
Consists of generously sized serving bowl, 4 matching individual bowls and a pair of elegant salad servers
Made from eco-friendly rubberwood
Stained with a cherry color finish
Measurements vary (See Dimensions & Specifications)
What's Included
1 large serving bowl, 4 individual bowls, and 1 pair of salad servers
Dimensions & Specifications
| | |
| --- | --- |
| Large serving bowl (dia x ht") | 12 x 4" |
| Individual bowls (dia x ht") | 7 x 2½" |
| Pair of servers (L") | 12" |
| | |
| UPC: | 026914-290702 |
| Carton Pack: | 6 |
| Carton Weight: | 26.1 lbs |
Care
Hand wash with a mild soap and cool water. Do not soak. Do not put in the dishwasher, microwave or refrigerator. Extreme changes in temperature will cause the material to crack over time. Dry thoroughly. Occasional use of mineral oil on the inside will help maintain its appearance.